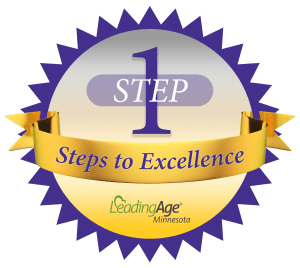 In the fall of 2023, Birchwood Cottages was honored for achieving all three levels of the Steps to Excellence program through LeadingAge Minnesota.
Birchwood Cottages has always taken great pride in the quality care, services and support we provide to our residents.
When it comes to helping our residents age well and live fully, we strive to better our best. We proactively seek out ways to innovate and improve what we do. We are committed to moving forward on a path to continuous quality improvement. And our efforts have not gone unnoticed.
---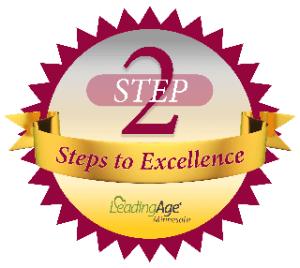 On Sept. 9, we were honored to be a recipient of the first annual Steps to Excellence Awards at the LeadingAge Minnesota Annual Meeting & Leadership Forum held at Grandview Lodge, Nisswa. The award was given by LeadingAge Minnesota, the state's largest association of organizations that serve older adults in independent senior housing, assisted living, adult day, and skilled nursing settings. Birchwood Cottages was honored for achieving all three levels of the program focused on organizational excellence.
We are incredibly proud of this accomplishment and know that it would not have been possible without our dedicated staff who are united in our shared mission to provide quality care to those living with memory loss.
---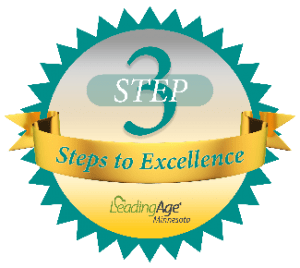 Quality never ends. It's a continuous journey, and one we are better prepared to take because of our participation in the Steps to Excellence program.
We will use what we are learning to further engage all our staff in performance excellence and to help them better understand our mission and embrace our values as they carry out their work. That, combined with our continued commitment to help our residents live their best lives, will greatly improve the experience of all who live and work at Birchwood Cottages.
Our staff and residents are integral to our commitment to Performance Excellence in Aging Services. We invite you to join us on our path to continuous quality and to share your ideas on how we can do better. We look forward to the work that we will do together at Birchwood Cottages.