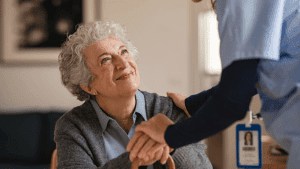 If you have a loved one with Alzheimer's or other forms of dementia, you know that these individuals have different care requirements than others with more conventional aging needs. You might be worried about your loved one's safety, daily care needs, and well-being when you cannot be with them. A memory care community can be the answer to your concerns, but is it the right fit for your loved one? What can family members expect from a memory care community?
What is Memory Care? Similar to assisted living, memory care offers living assistance for those who can no longer care for themselves. Memory care provides an additional layer of care to meet the needs of people experiencing progressive cognitive impairment. The overall goal of memory care is to maintain safety, dignity, and independence. Quality memory care, with empathetic and specially trained staff, is targeted to the specific needs of the people they serve.
While each person and their stage of dementia will determine the amount and type of care they need, a memory care living option can offer scaffolded layers of support. As round-the-clock supervision becomes necessary, your provider can adjust to meet your loved one's needs. In addition, because sixty percent of people with dementia tend to wander, memory care communities have robust security plans, including alarmed doors and enclosed outdoor spaces to keep your loved one safe.
Person-Centered Care. Specialized memory care communities can specifically target the needs of your loved one by tailoring recreational programs to each individual's strengths and skills. Consider a smaller community, where the staff can get to know their residents' history, interests, and hobbies. This will allow them to provide the best care for each resident. Specialized and person-centered care helps people with dementia live life more fully.
Questions to Ask. Memory care communities offer varying levels of care and services. As you weigh your options, have a list of questions with you to ask about the community when visiting. Be sure to include questions about:
Staff training and hiring practices
Staff to resident ratio on each shift
Medical services available
Communication you can expect
Fee structure and extra charges
Therapies and other outside services available
---
Birchwood Cottages specializes in memory care, providing assisted living in an enhanced care home-like setting designed with dementia in mind. We are family-owned and operated and have locations in beautiful Owatonna and North Mankato, Minnesota. Our team members' training is specialized for how to support and care for those with dementia and memory loss.
Birchwood Cottages encourages an active partnership with families and loved ones. We believe the family plays an integral role in identifying resident needs. We welcome visits, participation in activities, and interaction with staff.
Providing quality care for those with memory loss and making a difference in their lives is what we do at Birchwood Cottages. Contact us today to learn more.
---
Sources: